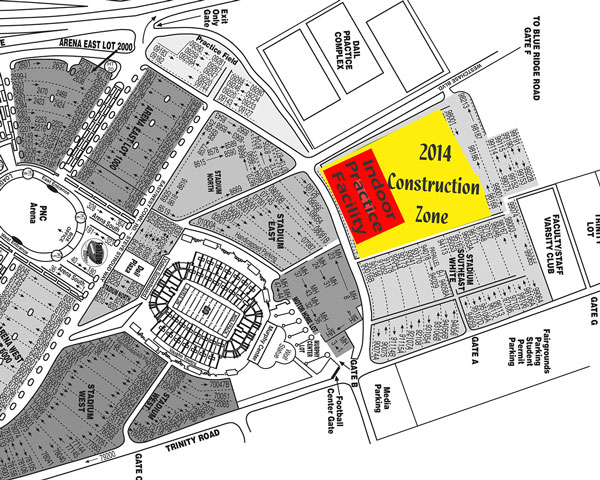 Update on the Indoor Practice Facility that will be built at Carter-Finley Stadium during 2014 and early 2015.
This facility, to be constructed in the Stadium Southeast Parking Lot, will provide Football, Track & Field, and many of our other sports, an area to train year round when inclement weather would otherwise prevent them from doing so. Thunderstorms in August and snow storms in February will no longer prevent our teams from practicing.
Recruiting will also be positively impacted because it shows prospective student-athletes that NC State is committed to providing the best possible training venues in the country. This commitment is clear when you look at the Murphy Football Center and the Dail Practice Fields, and will be demonstrated again with the Indoor Practice Facility.
Fundraising for this facility is currently underway and will be a major part of the Championship Commitment Campaign, as we move to a public launch in 2016.
See below some information that we hope will be helpful as you prepare for the 2014 football season. It is important that we communicate with our donors as much as possible and keep you informed as we continue to move our programs forward.
Click here to download the Parking Fact Sheet
Please note that we are moving the donation deadline to affect football parking to March 15, 2014.
This is a change from our traditional March 1 deadline, but will give you more time to decide how you would like to maximize your donation for football priority.
If you have any questions or would like to discuss this further, please contact our office at 919-865-1500.
If you would like to make an online contribution to your account now:

CLICK HERE!