Printable Depth Charts, Roster and Stats
For the Presbyterian game to be played this Saturday.

Read the latest issue!

Click the cover to log in
and read the latest issue
(For the non-flash version, click here.)

Wolfpacker Podcasts
The Wolfpacker Gift Shop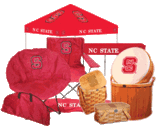 Our Wolfpack shop is sure to have the gifts that you've been seeking for your favorite NC State fan!