Mr. Wuf Huggle Hound Knottie
2170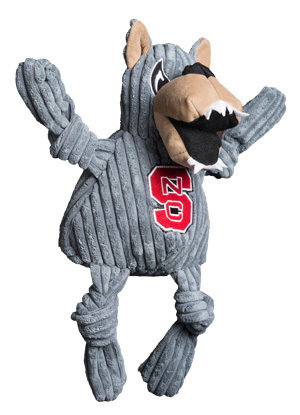 In Stock Now!
Official NC State Mr. Wuf HuggleHound®
Choice of Two Sizes: Large 15" ($24.99) or Small 9" ($19.99)

Corduroy plush animal with knotted limbs for gnawing
Squeakers in tummy and each paw
Made with exclusive Tuffut Technology®, known for its durable, unique three layer construction and identified by its signature Firefly Green color
The strongest, cutest and most ridiculously soft dog toy made!

What makes HuggleHounds so special? Others might tout chew-proof toys, but HuggleHounds invented the durable double-layer Tuffut Technology lining, identified by its firefly green color, so don't settle for less. Their exclusive, innovative lining means every Tuffut Technology toy comes equipped with two hidden layers - tested to withstand 100# of tugging and pulling pressure – and the layers are laminated to one another. It is then affixed to the outside plush fabric, before being sewn into the toys. This 2-layer process is what makes HuggleHounds' Mr. Wuf so special – extra protection from aggressive chewers!
How did WE find HuggleHounds? I met Julie, co-founder of HuggleHounds, at a recent trade show. Having just adopted Hank (a 6-month-old, 75 lb. Lab), we could not find ANYTHING he could not destroy (including wood!). I purchased a generic HuggleHound for Hank in April and it is still in one piece with no tears! It is his favorite toy. I can honestly say this is Hank-Tested, Mom-Approved.
Hank is a Wolfpack fan — so he is looking forward to meeting Mr. Wuf!

Shipping Limited to Continental U.S.

Select Size
Small (9") (0) Large (15") (0)