The Wolfpacker 2018 Football Preview
2004-July2018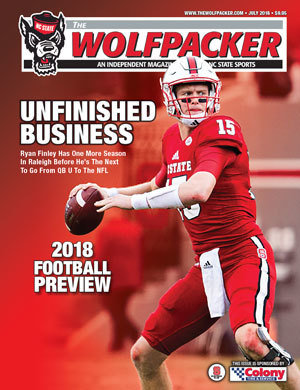 SPECIAL PRE-ORDER OFFER: FREE SHIPPING FOR A LIMITED TIME!
Our annual football preview magazine, a must-have for any NC State fan, has arrived. We have a complete breakdown of the 2018 Wolfpack squad with previews of every position group, including thoughts from all the assistant coaches. There are also features on key players, including quarterback Ryan Finley, defensive end Darian Roseboro and linebacker Germaine Pratt.
Other features in this edition include:
An exclusive interview with Director of Athletics Debbie Yow.
A look at the history of "QBU" and catching up with former quarterbacks Tol Avery and Roman Gabriel.
The Wolfpacker Male and Female Athletes of the Year for 2017-18
A look back at NC State's 2013 football recruiting class.
The top 30 senior football recruits in North Carolina.
And more!
CLICK HERE TO LOG IN OR PREVIEW THIS ISSUE
SHIPPING: (Free First Class Shipping within U.S.)
Please select appropriate shipping surcharge for foreign delivery.
Foreign orders without the correct shipping designation will have to be resubmitted.
Delivery Options
FREE First Class in U.S. (0) Canada (5) Mexico (4) All Others (11)